Subject Lead -Laura Corbett
Intent
At Selside School we believe that all of our children should have access to a broad and balanced curriculum that encourages them to gain the creativity and confidence they need to succeed in life. Our creative Music curriculum fulfils the National Curriculum requirements supported by the Charanga Music scheme. The scheme of work we use to support Music is planned to ensure effective progression and that all children are given the opportunity to explore their creativity and talents. At Selside it is our aim to provide opportunities for all to create, play, perform and enjoy music to develop the skills to appreciate a wide variety of musical forms, and to begin to make judgements about the quality of music. In line with our Values, children are nurtured to find Courage to try new ideas and perform in front of different audiences. When working together we build an ethos where children support their Friends to reach individual potential.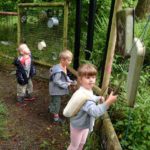 Implementation
Music Assessment & Vocabulary Progression
Primary National Curriculum – Music
Enrichment and Culture Capital
Music is a vital tool in supporting our children's personal, social and emotional development, which is of upmost importance to our school. Our Music curriculum is not only planned to help pupils develop educationally but is planned to ensure our children have access to cultural capital opportunities, providing a wider range of experiences and raising the profile of the subject.
-local workshops with The Brewery Arts Centre
– School trips to theatres and concert halls
-Specialist music teachers
-School Plays and concerts.
-Visiting musicians
-Quality resources and equipment
-School clubs and groups.
-live music sessions from a range of artists and group instrumental lessons
-Links with our local music service.
Music is at the heart of our school with singing in every assembly, a school choir and a range of school events such as Selside's Got Talent, which is a music festival which we hold at the end of every academic year.
Impact
We want our Pupils to become musicians who have:
A rapidly widening repertoire which they use to create original, imaginative, fluent and distinctive composing and performance work.
A musical understanding underpinned by high levels of aural perception, internalisation and knowledge of music, including high or rapidly developing levels of technical expertise.
Very good awareness and appreciation of different musical traditions and genres.
An excellent understanding of how musical provenance – the historical, social and cultural origins of music – contributes to the diversity of musical styles.
The ability to give precise written and verbal explanations, using musical terminology effectively, accurately and appropriately.
A passion for and commitment to a diverse range of musical activities.