We are a Church of England Endowed primary school and we are proud of our strong Christian foundation and family ethos. Our Christian values of  Thankfulness, Respect, Friendship and Courage underpin everything that we do in school.
St Thomas' Church
Our local church St. Thomas's Church, Selside is just up the road from the school and children can walk up to festival events at the church. It is part of the  Beacon Team of churches and is in Kendal Deanery in the Diocese of Carlisle.
Our vicar,  the Revd Tricia Rogers is a regular visitor to school to lead Collective Worship and also teaches some topics in RE.
We welcome and encourage members of the village and wider community to join us in worship at special times of year: Harvest, Christmas, Easter, Mothering Sunday and Easter.
NISCU
The school also has links with the local NISCU team who have supported the school to run special events such as 'Discovering Easter', old testament minis, virtual collective worship videos and resources.
Open the book
We also welcome 'Open the book' into school each week to take Collective Worship.  This is a team made up of members of different churches in the area who act out Bible Stories for the children.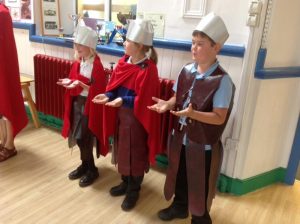 Arch Bishop Award
Our children take part in the Arch Bishop of York's young leaders award. The children enjoy making a difference to those around them whilst helping them to develop key leadership skills and character virtues.
Kindness – Perseverance – Teamwork – Action
Find out more about Selside Church